Toolbox's Diver Down
Commercial and Scuba Diving Service
PDIC Scuba Instruction Open Water through Dive Supervisor
Search, Recovery & Rescue Diving, Underwater Salvage,
Underwater Photography, Prospecting & Inspection
Underwater Metal Detecting, Dredging, Treasure Hunting
!!! Have Tanks Will Travel !!!


ADCI Commercial Diver
PADI OW, AOW, Rescue & Nitrox Diver
PDIC Wreck, Search & Recovery Diver
PDIC Under Water Crime Scene Investigator
PDIC Open Water Scuba Instructor #80211
PDIC Specialty Diver Scuba Instructor
PDIC Enriched Air Nitrox Instructor
Florida SRT/Police Divers Assoc.
Hillsgrove Vol Fire Company EMT-B

Rt. 87 & Main Street
Forksville, PA. 18616
570-924-4707


Here at Toolbox's Diver Down I am offering a Diving Service to the Sullivan County area. A service never before available here. Scuba Diving Classes in Sullivan County Pennsylvania, Open Water Diver through Dive Supervisor wirh Specialties Diver Training in Nitrox, Underwater Crime Scene Investigations, Search & Recovery, Research, and Underwater Archaeology just to name a few. I will also offer a $50.00 discount to members of Vol Fire Companies. In addition to Scuba Classes I can also offer diving services like Searching for a lost item in a lake, pond, creek or river. Underwater Photography, Prospecting, Salvage, Pond or Dam Inspection, in water Boat Cleaning, Pool Cleaning just to name a few. I would also like to work with the Local Fire Companies with developing and starting a Sullivan County Search & Rescue Dive Team. In addition I would like to educate the non diving EMS people in the area on how diving accidents differ in the treatment of emergencies. Working with local landowners, Fire and Police Departments to have a emergency plan for this area in the event of a water emergency.
I am currently promoting diving in this area. Offering Guided Dive Trips and Scuba Classes in the Sullivan County area in the Summer and Fall for tourists and locals who dive or wish to learn to dive to expand the Endless Mountains Vacation Experience. Diving in the creeks and rivers in this area is breathtaking. There is great visability, awsome rock formations, abundant fish and aquadic life, this makes the area worthy to explore it's underwater realms.



Toolbox's PDIC Scuba Classes



Toolbox's Dive Gear Home Page


Toolbox's Canister Dive Light Page


Surface Supplied Air Diving Equipment Page


Underwater Prospecting & Treasure Hunting Page


Toolbox's Diver Down Pirate for Hire Page Arrr


Toolbox's Diver Down Divewear Page


Underwater Photography Page


Public Safety Diver Page



Toolbox's Diver Down
Dive Wear
There Here at Last
Toolbox's Diver Down
Commercial & Scuba Diving Service T-Shirts
and Toolbox's Diver Down
Special OPS Pirate for Hire T Shirts
Get Yours for $15.00 for L & XL
$17.00 for XXL plus shipping
Call the Shop for details
570-924-4707




Diver Directory - Links to Scuba Diving Websites

Previous - Next - Random Site - List Sites
This Scuba Diving Ring site owned by Toolbox's Diver Down.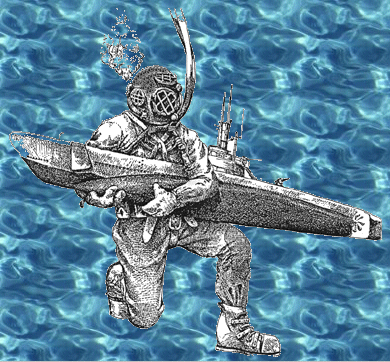 Toolbox and Mike Nelson Back in the Day
at a Pool preparing for Open Water Diving
After all I am The World Famous Toolbox
I Know Everyone